The outgoing European Movement NI Chair has warned there is a 'very serious risk, given yet another failure by the UK Government to clarify its own negotiating position, that UK-EU relations will be badly damaged and that the island of Ireland will bear the brunt of the punishment for this'.
Ian Parsley was speaking at the meeting of European Movement National Councils from the islands of Ireland and Britain on 4 December to discuss the impact of Brexit on these islands, their people and the nations represented by the various EMs.
The event was hosted by European Movement Scotland in association with Konrad-Adenauer-Stiftung and held in the Scottish Parliament in Edinburgh.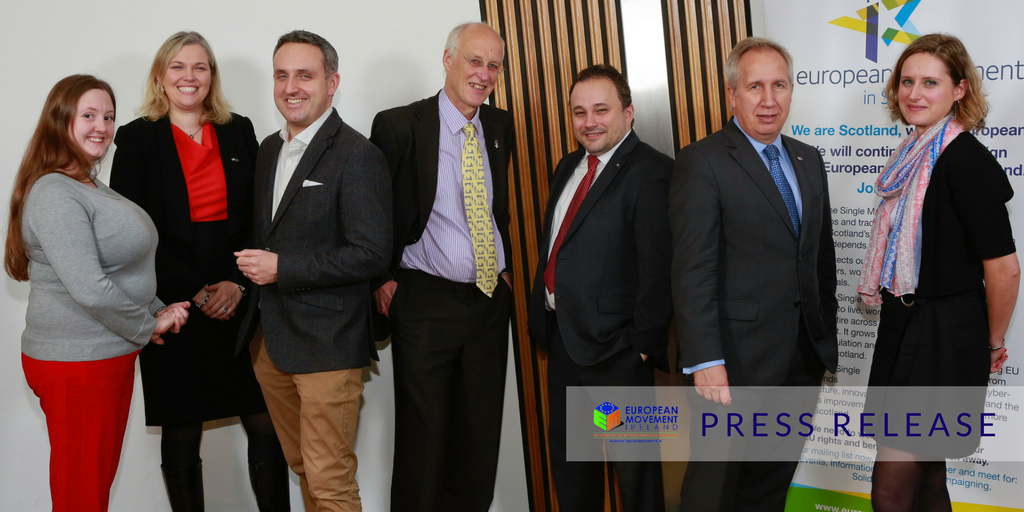 Ian Parsley (5th from left in picture, above) said:

"It goes without saying that the UK Government embarking on the process of leaving the EU while trapping itself in a corner over issues such as the Customs Union and participation in the Single Market has proved an act of monumental political and economic self-harm.
"The very minimum outcome required from this is a UK-EU partnership in which Anglo-Irish relations will not be further needlessly strained. Otherwise the economic and, even more importantly, social damage of a chaotic withdrawal from the EU will be felt far and wide."
In a joint statement issued following the event, European Movement National Councils from across the two islands said:
"At the heart of our concerns is the lives of citizens.  Working together in Europe for over 40 years has put Europe at the centre of citizens' lives, whether they are students, in business, or in other walks of life. It is important to ensure that the concerns and aspirations of citizens from all parts of these two islands are represented in the Brexit negotiations.
"Today we once again committed to working together over the crucial coming weeks, months, and indeed years, to ensuring that the common issues faced by all our citizens are properly reflected in the debate.  We reconfirmed our agreement that it is essential that all parts of the two islands should continue to collaborate to do so."
"The European Movement is about bringing Europeans together and therefore ensuring that every part of these two islands has a voice in the Brexit negotiations."
Speakers who addressed the Two Islands Brexit event in Edinburgh were:
Bill Rodger, European Movement in Scotland
Alex Cole-Hamilton MSP, Edinburgh West
Hilary Arrowsmith, European Movement UK
Remarks by Noelle O'Connell, European Movement Ireland
Ian Parsley, European Movement Northern Ireland
Jayne Richmond, European Movement Wales
Hans-Hartwig Blomeier, Konrad-Adenauer-Stiftung
Ian Parsley will retire as Chair of European Movement Northern Ireland at EMNI AGM on 7th December in Belfast.