The European Movement is a network of organisations that has mobilised citizens and advocated for a democratic, federal and enlarged union since 1948. The European Movement Northern Ireland is a not-for-profit, independent, all party and grass roots organization and is part of European Movement International.
The origins of the European Movement date back to July 1947, at a time when the cause of a United Europe was being championed by notables such as Winston Churchill and Duncan Sandys in the form of the Anglo-French United European Movement.
The European Movement was formally created on the 25th October 1948, when the Joint International Committee for European Unity decided to change its name. Duncan Sandys was elected President and Léon Blum, Winston Churchill, Alcide De Gasperi and Paul-Henri Spaak were elected as Honorary Presidents.
What does EMI do?
The European Movement works as a study and information group, and also as a pressure group. It operates as a study and information group through the many projects and activities undertaken, and has been at the forefront in helping large segments of the public take part in the dissemination of information on European affairs and activities. It operates as a pressure group through the influence exerted by its members at all levels in each sector of activity.
The European Parliament, Commission, national parliaments, authorities and governments, business-people, industry associations, NGOs and the many associations which make up the civil society in Europe have been influenced through the European Movement's network of contacts.
What about EMNI?
The European Movement Northern Ireland's is the country's leading pro-European organisation. It brings together people who share a common interest in European cooperation in its widest sense. It is a non-governmental organisation owned and funded by its members.
EMNI organises a programme of events – evening meetings and seminars, lunches and conferences – and publishes material to inform our members and the wider public about European affairs.
In the past, we have briefed the NI Assembly on EU matters:
http://www.niassembly.gov.uk/assembly-business/official-report/committee-minutes-of-evidence/session-2009-2010/february-2010/european-issues-european-movement-ni-council/
Foremost among these issues in the future will be the forthcoming Brexit negotiations.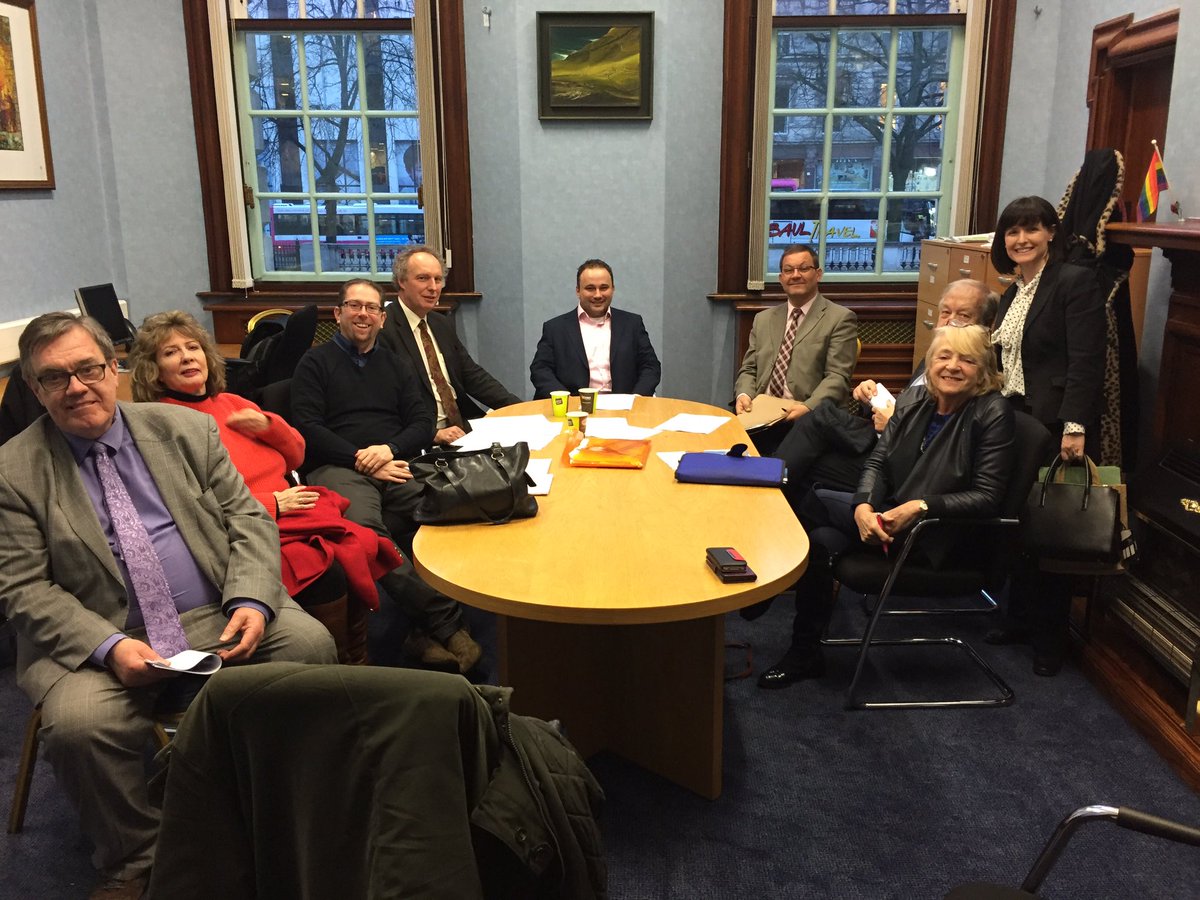 EMNI Members at an AGM in 2016 which voted to support the Remain campaign in the June Referendum.
EMNI has been active in making the pro-EU voice despite the vote of the 2016 Referendum.
EMNI represented at important events as Article 50 negotiations begin
It was involved in the creation of a body designed to represent all NI concerns about Brexit to various decision makers, The Independent Council on Europe, which included a wide range of representatives from Politics, Business and Civic Society to advocate for Northern Irish interests in the Brexit negotiations.
We were represented at the meetings of the All-Island Civic Dialogue on Brexit, including an important meeting in Dundalk in April 2018. The EU Chief Negotiator for the Article 50 process, Michel Barnier delivered the keynote address to the plenary session:
https://ec.europa.eu/ireland/news/michel-barnier-addresses-all-island-civic-dialogue-in-dundalk_en
https://www.dfa.ie/news-and-media/press-releases/press-release-archive/2018/april/all-island-civic-dialogue/
We also organised a pro-EU rally and took part in 'Shine a Light for Europe' in February 2018.