Just the Facts – Results in NI on EU Referendum
Just the Facts
Voting in the UK referendum on EU membership
On Thursday 23 June, the UK held a referendum on its membership of the European Union. Northern Ireland, as part of the UK, went to the polls that day.
---
Northern Ireland Voting 23rd June
(Pic: OwenBlacker via Wikimedia Commons)
The following question was asked on the ballot paper:
"Should the United Kingdom remain a member of the European Union or leave the European Union?".
What were the results?
Overall, 440,437 people in Northern Ireland voted to Remain in the EU and 349,442 to Leave. Out of 18 constituencies, 11 voted to stay in the European Union.
Northern Ireland voted to remain by 55.8 % to 44.2% Leave.
The turnout in Northern Ireland was 62.7% with 789,879 people voting in the referendum.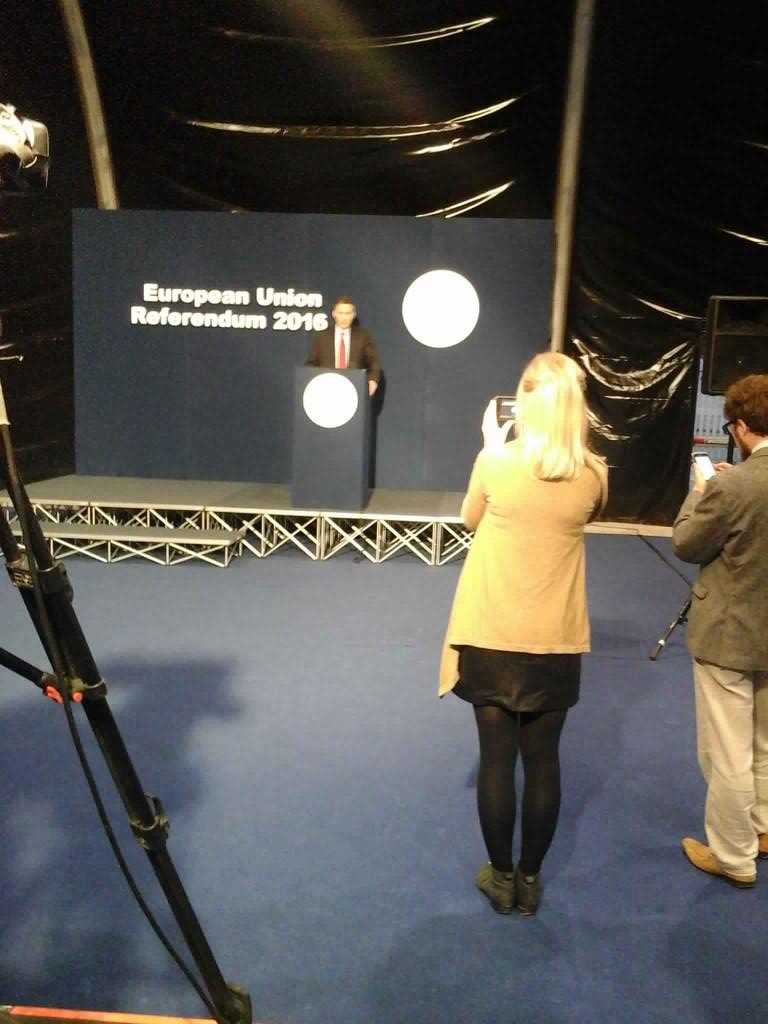 Graham Shields (Counting Officer) announced the results for Northern Ireland around 5.20am on 24th June 2016 at the Titanic Exhibition Centre, Belfast.
NI Results
The total number of ballot papers counted was 790,523
The number of votes cast in favour of REMAIN was 440,707
The number of votes cast in favour of LEAVE was 349,442
The number of ballot papers rejected was as follows:
 No official mark 18
 Both answers voted for 148
 Writing or mark by which voter could be identified 1
 Unmarked or void for uncertainty 207
The total number of ballot papers rejected was 374
Overall Result
Despite the result in Northern Ireland, the UK as a whole voted to leave. Overall, the Leave campaign came top in nine of the UK's nations and regions, with the Remain campaign coming top in just three, NI, Scotland and London. The West Midlands had the highest vote share for Leave, with Scotland highest for Remain.
LEAVE
51.9%
BBC News: EU referendum: The result in maps and charts
http://www.bbc.co.uk/news/uk-politics-36616028
https://www.bbc.co.uk/news/uk-northern-ireland-36616830
Other Information/Questions
The Electoral Commission Guide: http://EU Referendum Voting Guide for NI
The Electoral Office for NI: http://www.eoni.org.uk/Elections/Referendum-FAQs
General voting information for NI: https://www.nidirect.gov.uk/articles/elections
General impartial information on EU Referendum: http://www.aboutmyvote.co.uk/upcoming-elections-and-referendums/eu-referendum